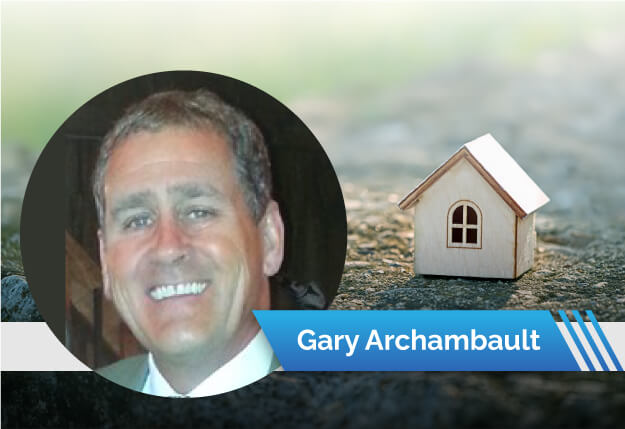 IMS Datawise announces the appointment of Gary Archambault.
IMS Datawise is pleased to announce the appointment of Gary Archambault as the new AVP of Sales and Key Accounts. In this new role, Gary will be responsible for identifying and developing key accounts in North America, overseeing strategic partnerships, and driving the sales team to achieve annual targets. Gary brings a wealth of experience in the property preservation and inspection industry.
Here, Gary shares his thoughts on the evolution of the sector, his industry insight, and why he was excited to join the IMS Datawise team.
How many years have you worked in the Property Preservation Industry?
I started in the property preservation industry in 2004. Since then, I have had the pleasure of working with some of the most outstanding and hardworking people in any industry. I have experienced the industry at different levels, from working with national property preservation companies to working and owning a regional property preservation company. Over the years, it's been my mission to get my clients the results they need and my experience over the years has led me to appreciate all the people that work in the property preservation and inspection sector.
How do you feel the Property Preservation Industry has evolved over the years?
The property preservation industry has certainly evolved since I began in 2004. Back then, we did everything manually, to the point we had to mail photographs of all the services completed, both inspection and preservation, to the bank and/or servicers. Since then, the industry has become digitized created significant technology platforms, as well as dynamic ways to report almost in real-time the happenings at a property.
While advances and improvements in technology have offset the rise in work orders, the ever-shrinking timetables of banks' and servicers' have increased time pressure. On one hand, building schedules have been reduced and on the other, contractors' workloads have increased. In particular, the demands put on the vendors and contractors doing the physical work have increased significantly. Today, more is being asked of the vendors and all of this under the pressures of pricing staying relatively flat over the last two decades.
All of this has been a challenge for the industry, and everyone at every level has experienced the stresses of the business. Businesses are facing greater complexities because of new and changing client requirements, increased regulations, and changes in technology. In addition, many other factors contribute to the stress on the property preservation and inspection industry. These include supply chain issues, the impact of the pandemic, pricing pressures caused by the cost of raw materials, and a shift in the labor market, all leading to extra pressure.
Fast, On-time, and Accurate Outsourced Property Preservation Support that helps you Reduce Costs and Process More Orders
How has your journey been from a property preservation company owner to a leader working with IMS Datawise? Why were you inspired to join the IMS Datawise team?
One of the main things that attracted me to IMS Datawise was its positive culture, outstanding work ethic, and drive for customer satisfaction. The culture at IMS is truly infectious!
The past 10 years have seen the industry undergo a dramatic transformation, more so than any other decade. We have seen a move to digital and a move away from traditional systems and processes. At IMS Datawise, we are firmly at the forefront of this evolution—and I really wanted to use the skills and experience I have gained in the industry to play a part in the transformation. As a company, we are not only helping our clients innovate and transform their business, but we are also helping to shape the future of the industry itself.
I think now is the best opportunity to outsource tasks associated with the property preservation industry. I genuinely believe we can assist the industry with their staffing needs, from processors to vendor recruiters, as well as offering specialized services to the ever-increased demands in accounting departments. Outsourcing offers businesses access to reliable, flexible, scalable solutions with no long-term commitment. With the potential for more uncertain times ahead, ongoing labor shortages, and rising costs, outsourcing is a smart move in 2022. But choosing the right outsourcing partner for your business is critical. It is essential to have a clear scope of work and select an outsourcing company with proven experience in your industry, along with the skill set and technical expertise you need, as well as having robust data security.
What has your leadership brought for your clients/customers to date? / What value has your leadership and expertise brought for your clients/customers to date?
What I have learned in my career and what I bring to my clients, customers and staff, is accountability. No matter what the situation, it's important to always communicate, whether you're delivering good news or bad. When I am fielding an issue or problem, I always try to present a solution that will give the person the options and an outcome they are comfortable with. It's important to me to nurture and build strong relationships and become a trusted advisor to anyone I'm working with, and support people to achieve their goals for resourcing.
How does IMS Datawise compare to other outsourcing solutions available in the market?
I was drawn to IMS Datawise by its reputation for excellence, its innovative approach and the opportunity to work with a team of talent professionals. I have worked with other outsourcing businesses over the years, but none of them have displayed the cultural experience I have had with IMS Datawise. As the IMS Group Charter says, "If it's about people, we Make it POSSIBLE". The entire team is driven towards understanding and excellence.
What are the most important values you demonstrate as a leader for your team?
Honesty, fairness, and integrity. I try to best serve the entire IMS Datawise team in helping them achieve their goals.
Our senior management team is delighted to welcome Gary to the IMS Datawise family.